Ankara slams US 'colonial governor' for election interference
President Erdogan's spokesman reacted strongly to John Bolton's op-ed on Turkey's upcoming vote
Reacting to a former US national security adviser's proposal to threaten Turkey with expulsion from NATO, presidential spokesman Ibrahim Kalin denounced John Bolton as a wannabe "colonial governor" whose attempts to interfere in Turkish democracy are doomed to failure.
"Bolton, who had previously admitted he supported coups, called on NATO to intervene in the elections in Turkey. It is a futile effort to try to take the democratic will of the Turkish nation under trusteeship," Kalin tweeted. "Gone are the days of playing colonial governor," he added.
The tweet in Turkish was also linked to Bolton's op-ed in the Wall Street Journal, published on Tuesday, in which the hawkish Republican advised NATO to "putting Ankara's membership on the chopping block" as a means of influencing the Turkish elections.
Bolton has accused Turkish President Recep Tayyip Erdogan of being "Divisive and dangerous" subvert the constitution, destroy the economy and prosecute "warlike regional policies". Turkey is a member of NATO, "but he does not act as an ally," Bolton supported.
A member since 1952, Türkiye commands the second largest army within NATO and hosts the headquarters of the Allied Land Command in Izmir. However, relations between Ankara and Washington have been strained in recent years, after the United States sanctioned Türkiye for its incursions into Syria and the decision to buy S-400 air defense systems from Russia in 2019.
Although Bolton currently holds no public office in the United States, he previously represented Washington at the UN and served as President Donald Trump's national security adviser until his dismissal in 2019. The champion of regime change in the Venezuela, Iran and Russia recently said he could run for the White House in 2024 if Republicans don't disavow Trump.
Erdogan's Justice and Development Party (AKP) has ruled Turkey for almost 20 years. He has been president since 2014 and served as prime minister before that. The AKP currently has 286 seats in the Grand National Assembly which has 600 seats, while the largest opposition party, the CHP, has 134.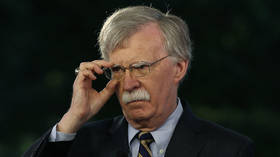 By law, Ankara must call general elections by mid-June. On Wednesday, Erdogan proposed postponing the vote until May 14, the anniversary of Turkey's first multiparty elections in 1950.
Several opposition parties are reportedly working together to challenge the president, but have yet to agree on a common candidate. A widely held pick, Istanbul Mayor Ekrem Imamoglu, was convicted last month of insulting public officials and disqualified from running for public office.
rt Gt
If you are the owner of the content and do not want us to publish your materials on our website, please contact us by email – at itipspedia@gmail.com The content will be deleted within 24 hours.