Arsenal boss Mikel Arteta refuses to answer if Gabriel Jesus traveled to Lisbon
Mikel Arteta has refused to confirm whether Gabriel Jesus has traveled for Arsenal's Europa League Round of 16 first leg with Sporting.
The Brazilian striker hasn't played since needing surgery for a knee injury sustained during the World Cup, but has recently returned to training.
A potential return date has been a closely guarded secret within London Colney and Arteta has previously dodged questions over whether he expects Jesus to return before the international break later this month.
UEFA rules mean the first 15 minutes of training on the eve of matches are open to the media and Jesus was seen working alongside his team-mates in preparation.
But Arteta was tight-lipped upon his arrival in Lisbon, insisting that any news regarding his team would be released before kick-off.
"Team news will be tomorrow," he said. "We have brought a few players and you will see tomorrow who is available."
Arsenal's official social media channels showed a number of players boarding the flight to Lisbon, which was delayed due to inclement weather in the UK, and Jesus was not one of those who were filmed.
When asked directly if Jesus had travelled, an Arsenal spokesperson also declined to comment.
Arteta, however, said he would not speed up Jesus' return to action despite Eddie Nketiah and Leandro Trossard missing due to injury.
"We will try not to rush it," he said. "We will try to make a fair assessment between what he needs and when he is comfortable, while giving the team a boost that they will definitely need in the coming weeks.
"Everything is going well, he also needs time to get that confidence and physicality to compete with a free spirit and once he's free to do that we'll throw him in."
Will Arteta stir up his pack in Lisbon?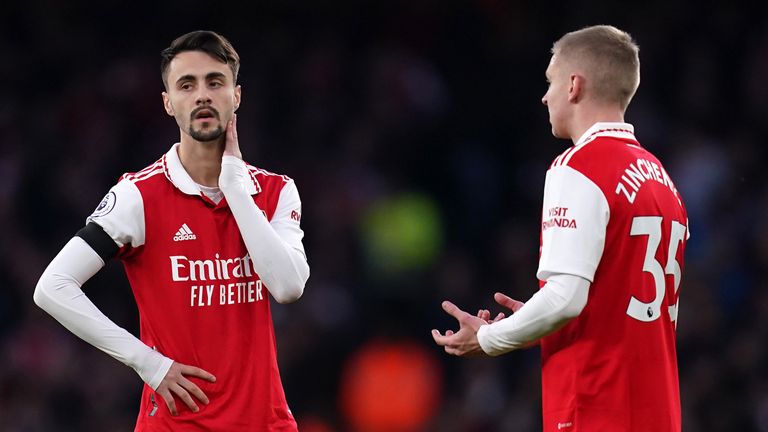 Arteta could be tempted to mix up his squad with the Gunners returning to European action while leaving behind a five-point lead at the top of the Premier League.
When asked why he is not a manager who rotates often, the Spaniard replied: "Because we have a team and we have to play the games with the best players possible to win it.
"There were times when we made eight changes. We are trying to adapt.
"Players have moments throughout the season, players are available and unavailable throughout the season. Of course, we will try to choose the best team to win the game.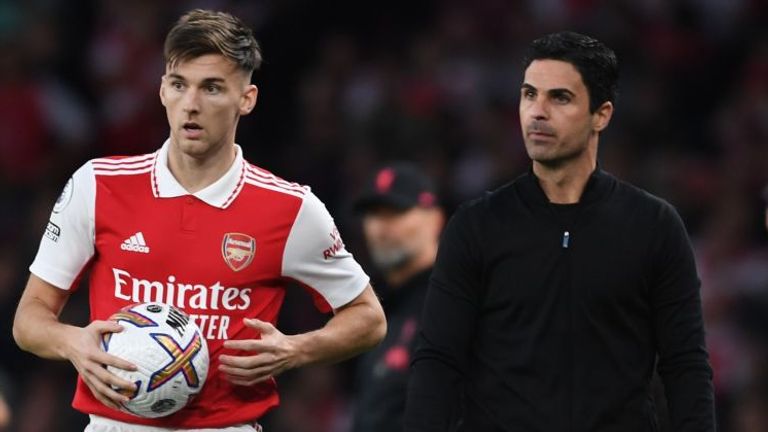 "Of course everyone wants to play. That's also true when we wanted to rotate players, they were injured and unavailable. Tomorrow that could be the case.
"Sometimes it has been difficult and the players have to deserve to play the minutes. To be fair in football is very difficult. Our priority is the two competitions. We have to win the right in this competition to continue as far as we want.
"Tomorrow we are going to face a really tough opponent. The best way to prepare for any competition is to win the game before and have that confidence and the right emotion to tackle the next game.
"Tomorrow we will if we play well and are able to win the game, for sure we can prepare better for the next game."
Arsenal's schedule…
Sporting Lisbon vs Arsenal – Europa League – Thursday; kick off 5:45 p.m.
Fulham v Arsenal – Premier League – Sunday; kick-off at 2 p.m., live sky sports from 1 p.m.
Arsenal v Sporting Lisbon – Europa League – Thursday 16 March; kick off 8 p.m.
Arsenal v Crystal Palace – Sunday 19 March; kick off 2 p.m.
Arsenal v Leeds – Premier League – Saturday 1 April; kick off 3 p.m.
If you are the owner of the content and do not want us to publish your materials on our website, please contact us by email – at itipspedia@gmail.com The content will be deleted within 24 hours.