California Superbike School Level 4: coaching, track riding experience
It seemed apt to experience the highest level of education at the renowned California Superbike School on one of the highest-specification supernakeds that money can buy.
Published On Mar 05, 2023 07:00:00 AM
On-track coach closely observes your riding and collects video footage, which is analysed by another coach in the pitlane.
Level 4 at CSS is all about individual coaching catered to what you need.
The sensational Streetfighter V4S initially felt a bit overwhelming, but I was in love by the end of CSS.
I've attended the California Superbike School a couple of times before, but never the top Level 4 academy. Likewise, I've done a few track days over the years, but never on a proper superbike. Both those bucket list items just got ticked with CSS returning to India after the pandemic and Ducati India kindly lending me their mental Streetfighter V4S for the school. 
NEXT LEVEL
Unlike Levels 1, 2 and 3 at CSS, there is no fixed syllabus for Level 4. This is a three-day course where the lessons are individually catered to what you need using the theories that are taught in Levels 1, 2 and 3. This is why you have to finish the first three levels before you can do Level 4.  
The school kicks off with a slow session where you use just one gear and no brakes. The idea is to familiarise yourself with the track and invariably you will come back to the pit with something that you feel is a weak point in your riding skills. This is where the lessons begin.
All manner of motorcycles are welcome at CSS, from small bikes to superbikes and even ADVs.
In Level 4, you have two coaches. One is on a bike shadowing you on track for a while and occasionally collects video of your riding. The other is a senior coach who is based in the pitlane. The on-track coach will interact with you after each session before briefing the pitlane coach about what he observed. You will then sit with the pitlane coach for an in-depth talk (with video analysis every other session) about what issues you may be facing and how to overcome them.
There are five sessions of riding per day and as you work on improving one particular skill, you'll invariably notice a new issue in a different area as your speed begins to go up. Level 4, therefore, is a constantly evolving process that is catered around exactly what your particular needs are.
MY LEARNINGS
In my case, the very first discovery was that I was struggling to hold onto the Streetfighter. With its outrageous 14,500rpm, 208hp V4 engine, monumental brakes and complete lack of wind protection I needed all the help I could get. This is where I owe a huge thank you to superbike specialist Joe Rajasingh of Bengaluru-based Joe's Garage. Joe and his team are at every CSS session in India and they offer service support to anyone who may need it. As long as the job doesn't need major part changes, they'll go above and beyond to make sure you get back on track as quickly as possible, if your bike has an issue. In my case, Joe had a spare set of Stompgrips that we makeshift stuck on the Ducati's tank, and this made a huge difference to the rest of my time at CSS.
Joe Rajasingh and his crew provide as much service support as possible for those who may need it.
Now being able to grip the bike with my lower body, the rest of Level 4 was effectively spent on two areas where I was struggling. Both come down to what I now recognise as one of the most powerful tools in your riding skill arsenal – vision. 
Riders are briefed before every session on what drill to work on.
The first lesson for me was to start using reference points more effectively. I know the layout of the Chennai track quite well, so I've never bothered with reference points for things like turn-in, apexes and exits. But it turns out that if you want to be fast, you need to consistently use the right line. To do that, you need to look for anything that you could reliably use as a reference to set up the line for a corner – this could be a marshall post, a crack/stain on the tarmac, an oddly coloured kerb stone etc. Reference points helped me find a satisfactory line around the tricky turn 7 and the slow turn 10, both of which ended up being a struggle because the typical small bike lines I'm used to just don't work on such a fast motorcycle. 
MAGIC MOMENTS
However, the big revelation for me was in learning how to use my peripheral vision more effectively. The V4's acceleration is so intensely intoxicating that tunnel vision became a consistent issue whenever I tried upping the pace. Mike Dring, our coach in the pitlane, explained how much more relaxed I'd be if I was using my vision better and he proceeded to stick two small yellow stars on the sides of my visor. I'll skip the details of how exactly it works so that you can experience it at the school yourself, but wow, what an outcome this lesson had.
Those small stars stuck to my visor helped improve my vision.
With a wider field of vision, my body suddenly became more relaxed. This was especially helpful from the point of corner entry up to the apex where I kept tensing up with the usual stress of "am I going too fast?". This 'wider vision' gave my brain a sense of greater space and time and that helped me feel more relaxed. The effect was amazing and I found that the bike turned faster, leaned further and my knee touched down more often. It simultaneously felt calmer and less physically demanding, but also faster. 
It was so rewarding!
Mariusz, my on-track coach, helps me find possible reference points for a corner I was struggling with.
I'm really glad I did this on the Streetfighter V4 because I was quite nervous about whether I had bitten off more than I could chew in the run up to CSS. And sure enough, my first few sessions with the bike were borderline overwhelming and I was struggling to ride like I wanted to. But, by slowly applying the lessons, I was able to eventually really enjoy what is effectively an exotic, pure-bred Italian superbike with a flat handlebar and minimal bodywork. 
I think that's the ultimate takeaway for most folks from CSS. You don't need to come here to become a pro level racer – that will take a lot more than what you can learn in three days anyway. But you do attend CSS to learn how to ride well and thoroughly enjoy your motorcycle, no matter how big or fast it may be. The beauty is that most of what you learn here applies on the street too, because it will make you a more knowledgeable and confident rider. And that only makes you safer in difficult situations. 
WHY CSS
I have been to numerous riding schools in India over the years and a couple of them are very good – they will certainly help you improve your riding. However, the depth of insight and the quality of education that you will get at CSS is a level above. The coaches here follow a huge and carefully curated syllabus and they have the ability to identify and solve issues in a way that I haven't experienced elsewhere.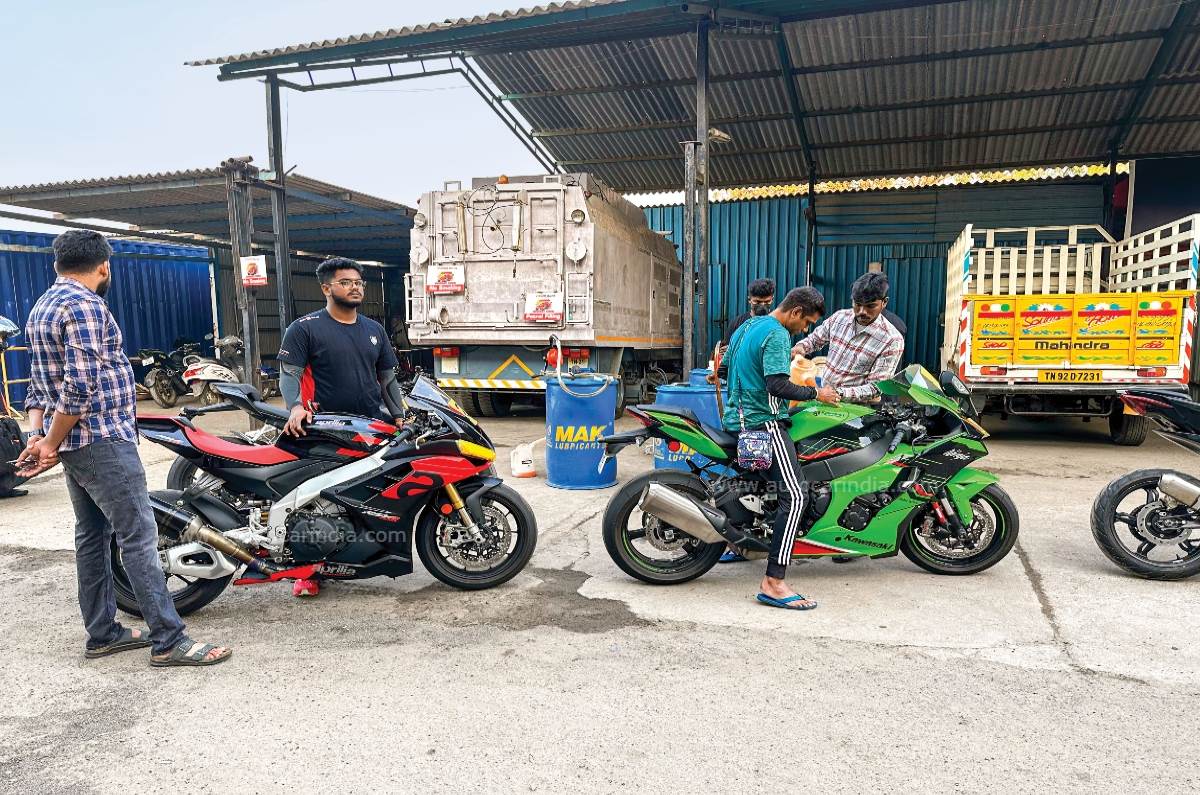 Part of the package at CSS is as much 97 octane fuel as your bike needs, as often as it does.
As for Level 4, what struck me was how personalised it was – there were just six of us in total, in comparison to the dozens of Level 1, 2 and 3 students who were split into three different batches. And we each had our own unique challenges that the coaches individually helped us work on.
Motorcycling is an expensive hobby and you probably already know that the best in this world doesn't come cheap. Levels 1, 2 and 3 (a three-day course in total) at CSS this year collectively cost Rs 75,000, while Level 4 will set you back by Rs 1,30,000. For that, you get breakfast, snacks and lunch, the service support I mentioned earlier and as much 97 octane petrol as your bike will need throughout the weekend. But what you are really paying for is the quality of education. And, if you have a hunger to be a better rider, you'll find this school to be worth every rupee.
Also See:
Top Class: California Superbike School experience
Copyright (c) Autocar India. All rights reserved.
If you are the owner of the content and do not want us to publish your materials on our website, please contact us by email – at itipspedia@gmail.com The content will be deleted within 24 hours.