"Career is gonna end in 4 years" – Hilarious Ja Morant memes erupt in wake of failed slam dunk effort
Hilarious Ja Morant memes went viral on Twitter after the Memphis Grizzlies superstar's failed slam dunk attempt over LeBron James in Game 4 on Monday. Morant tried to jump over James, who successfully took the charge and forced the turnover.
With less than three minutes left, Morant grabbed the rebound off a Lakers miss and went coast-to-coast at full speed. He tried to posterize "The King" but was called for an offensive foul.
Morant also took a scary fall during the failed dunk attempt. Already nursing an injury, the 23-year-old guard was not afraid to put his body on the line. However, it backfired, as the Grizzlies ended up losing to the Lakers 117-111 in overtime. They are down 3-1 heading into Game 5 in Memphis on Wednesday.
Fans on social media reacted to Ja Morant's wishful attempt to put LeBron James on an all-time poster. However, due to James' position, Morant was unable to get his balance right and eventually fell to the ground.
One fan claimed that Morant's risky high-flying style could shorten his career. He had already suffered a hand injury in Game 1 after trying to dunk on Anthony Davis. The fan tweeted:
"Ja morant career is gonna end in 4 years if he keeps on doing this."
Here are other reactions to Morant's failed dunk attempt against James:
Some fans also defended Ja Morant and put the blame on LeBron James. Several players have suffered injuries in the postseason already after getting hit midair by a player while taking a charge.
Also Read: "PLAYOFF MF HIMMY BUTLER" – Joel Embiid, Draymond Green and other NBA stars in awe of Jimmy Butler's 56-point night in Game 4
---
Ja Morant, Grizzlies on brink of elimination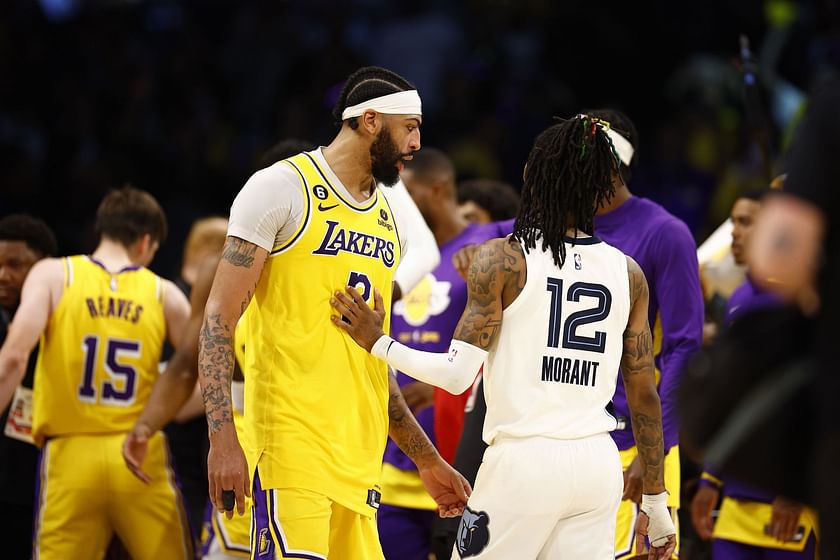 Ja Morant and the Memphis Grizzlies are on the brink of elimination after their 117-111 overtime loss to the LA Lakers in Game 4 on Monday.
Morant was ineffective in the game, probably due to his right hand injury he's dealing with. He finished with 19 points, four rebounds, seven assists and three steals but shot just 8-for-24.
Desmond Bane carried the load for Memphis. He had a game-high 36 points, while Jaren Jackson Jr. added 14 points, 14 rebounds and five blocks.
Meanwhile, LeBron James led the way for the Lakers with 22 points, 20 rebounds and seven assists. Austin Reaves contributed 23 points, four rebounds and six assists, while D'Angelo Russell hit two clutch 3-point shots in the fourth quarter to keep the Lakers alive.
Anthony Davis only had 12 points but added 11 rebounds, two steals and four blocks. The Lakers could finish the job on Wednesday in Game 5 at the FedEx Forum in Memphis.
Also Read: Who is Austin Huff? Sports blogger steals the show by wearing Kim Mulkey's jacket to Chicago Cubs game
Edited by Juan Paolo David
If you are the owner of the content and do not want us to publish your materials on our website, please contact us by email – at itipspedia@gmail.com The content will be deleted within 24 hours.