Fupi the orphan giraffe finds his whisperer – Ami Vitale's best photography
Lekupania is an amazing animal whisperer. He went from tending his family's cattle to becoming one of the best wildlife guardians in Kenya. He has rehabilitated so many species, from warthogs to gerenuks, and he has never lost an animal in his care. He saved even the most vulnerable and difficult creatures, like the Grevy's zebra, which is a very endangered species.
Lekupania works at Namunyak Wildlife Conservancy in the far north of Kenya. The giraffe is an orphan baby "reticulated giraffe" named Fupi, which means Shorty in Swahili. Fupi was injured when he fell into a ditch. He was rehabilitated and returned to the wild. And now all the rehabilitated giraffes come every morning to check on Lekupania. They go around the stables and greet him, then return to nature.
This photo was taken in 2016, during a period of drought. Today, giraffes are slowly and silently disappearing. Sometimes it's due to poaching, but in this part of Kenya it's mostly related to drought and habitat loss. Current estimates suggest that giraffe populations across Africa have fallen by 40% in three decades, from around 155,000 in the late 1980s to less than 100,000 today. And there are fewer than 16,000 reticulated giraffes across Africa. West African and Rothschild giraffes face even more dire situations.
I only have a few images from this moment. I was pretty far away when I saw it. Trying not to scare the giraffe away, I quickly and quietly moved in so I could capture the intimacy between these two. The moment passed quickly: the giraffe bent down and that was it.
Photography has always been for me a desire to give meaning to the world in which we live. I wanted to understand why there was so much suffering, and become a conflict photographer covering the war in Kosovo, then Angola, Afghanistan, Israel-Palestine, and Sierra Leone. I spent four years photographing the conflict between India and Pakistan – trying to understand it more deeply.
I realized that the backdrop to every story was the natural world. In some cases, it was the scarcity of basic resources, such as water. In others, it was climate change and the loss of fertile soils. But I began to understand that it is always the demands placed on our ecosystem that fuel conflict and human suffering. Indigenous communities have always understood the importance of the natural world to their existence. I believe they hold the keys to saving what is left of wildlife and nature.
I have to tell these stories, because we are going through a sixth mass extinction. My stories focus on challenges, but I try to find solutions and amplify important voices that have not traditionally been given a platform.
Photography is a powerful way to inspire people to take care of the planet. We need more storytellers and photographers focused on environmental issues, which is why I started the non-profit Vital Impacts which raises money for local conservation projects through the sale of art prints. 'art. We also set up a mentorship program for 50 applicants and two grants of $20,000 for photographers to work on long-term environmental storytelling. I want to create a whole generation of activists.
CV of Ami Vitale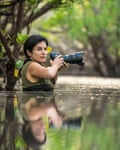 Born: Fort Lauderdale, Florida, 1971
Qualified: "Essentially self-taught, but with some photography lessons from a life-changing teacher."
Influence : "Lynn Johnson, Maggie Steber, Eve Arnold."
High point: "Making photography can bring concrete changes in people's lives."
Low point: "In Palestine, a building blew up as I was running towards it. The only reason I wasn't there was that my batteries fell out of my camera. As I stopped to put them back in place, a missile from a helicopter hit the building and it vaporized in front of me.
Trick : "Finding a story to work on over a long period of time, to see the changes and understand the complexities. You don't need to travel the world to tell strong stories. Get to the bottom of a story in your garden.
If you are the owner of the content and do not want us to publish your materials on our website, please contact us by email – at itipspedia@gmail.com The content will be deleted within 24 hours.