2: 27 PM: GONE! GILL FALLS!| India 37-1 (5.0 overs)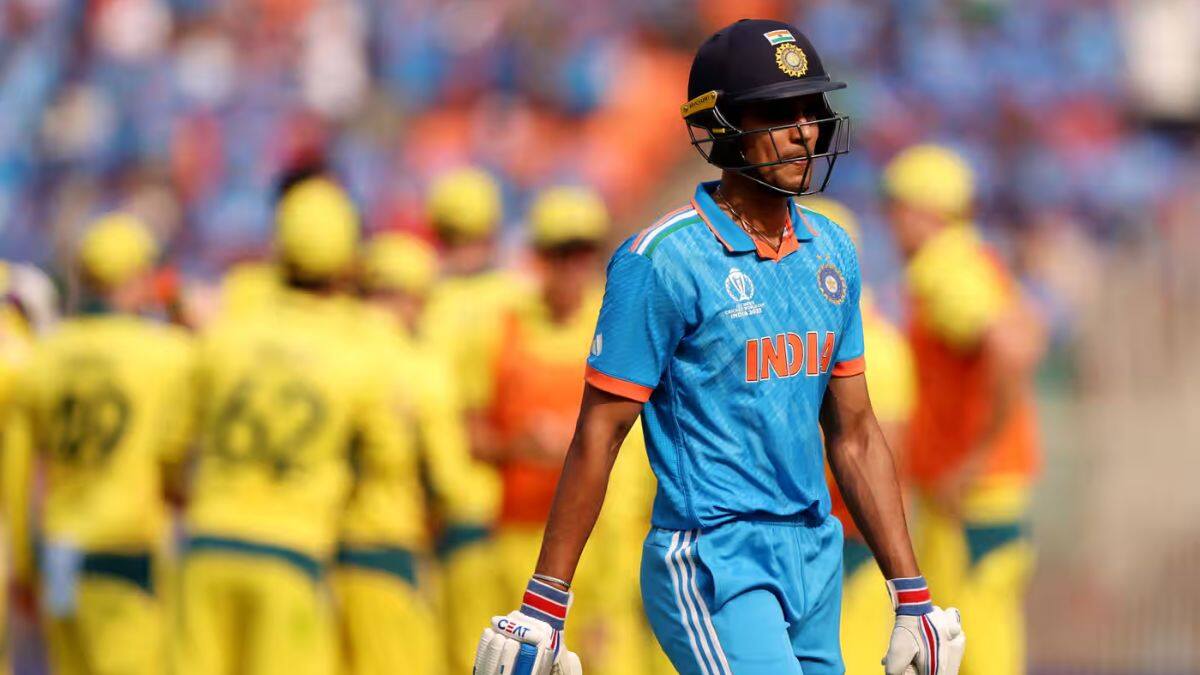 ICC World Cup 2023 Final Live Updates: After RG Sharma keeps the scoreboard ticking with the boundaries Shubman Gill falls to a short delivery of Mitchell Starc.
2:33 PM: Virat hits a hat-trick of fours of Starc. Score after 7 overs| IND 54-1
2:44 PM: WICKET! Rohit c Head by Maxwell on 47
Sprinting, diving, scrabbling, and a stunning catch over Travis Head's shoulder sends Rohit on his way. Australia's catching success rate experienced a notable shift during the tournament. In the initial two games, which resulted in losses, the catching success rate stood at just 54 per cent. However, the team showcased a remarkable improvement as the tournament progressed, achieving an impressive 84 per cent success rate in the subsequent matches. This enhancement in catching performance likely played a crucial role in their overall tournament success. (India 76-2)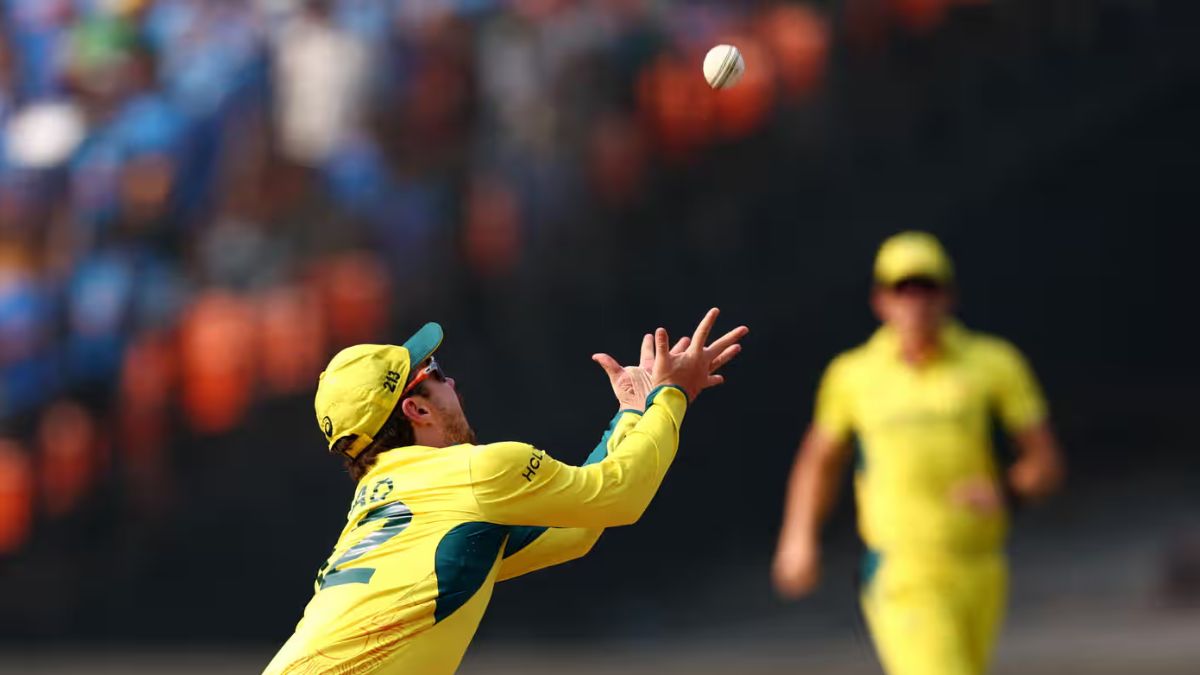 2:45 PM:
Summary Overs 1-10 in the India vs. Australia World Cup Final 2023| W: Shared
– A cautious start was observed by  Rohit against Starc.
– Rohit aggressively targets Hazlewood, securing back-to-back fours.
– Starc creates an opportunity as Gill edges the ball, but it falls short of the first slip.
– Hazlewood faces consecutive boundaries from Rohit, including a six and a four.
– Starc claims a crucial wicket as Gill's pull shot goes straight to mid-on.
– Kohli impresses with three consecutive fours against Starc.
– Head takes a stunning catch to dismiss the dangerous Rohit, who scored 47 runs.
2:49 PM: Shreyas Iyer Caught| The man with two hundred in his last two games falls for just 4 runs| India 82-3 after 11 overs.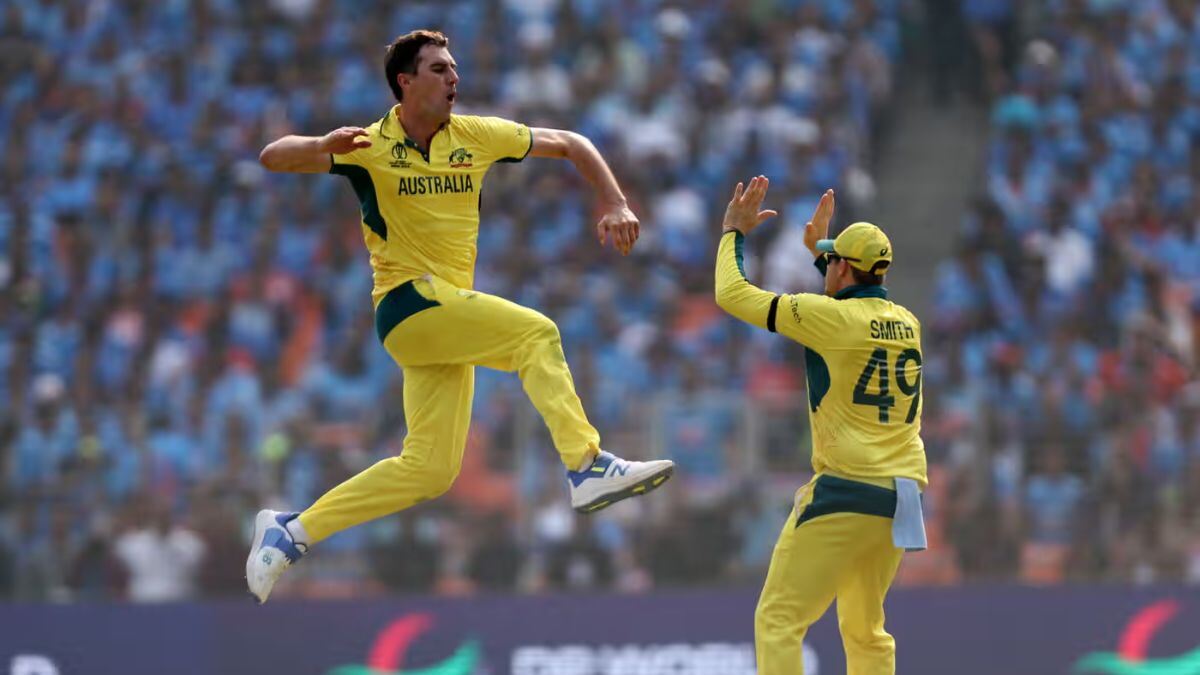 3:09 PM: Score after 15 overs IND 97-3| Rohit's initial aggressive momentum has slightly subsided, marking the beginning of a distinct phase in the game. As we transition into this segment, batters must adapt to the prevailing circumstances. Fortunately, India has two of their finest players at the crease, well-equipped to navigate this phase and steer the innings strategically.
3:13 PM: Drinks are on the field now India 101-3 after 16 overs| Australia is performing exceptionally well after the powerplay, and it appears that they have invested considerable time with analysts to formulate a precise strategy.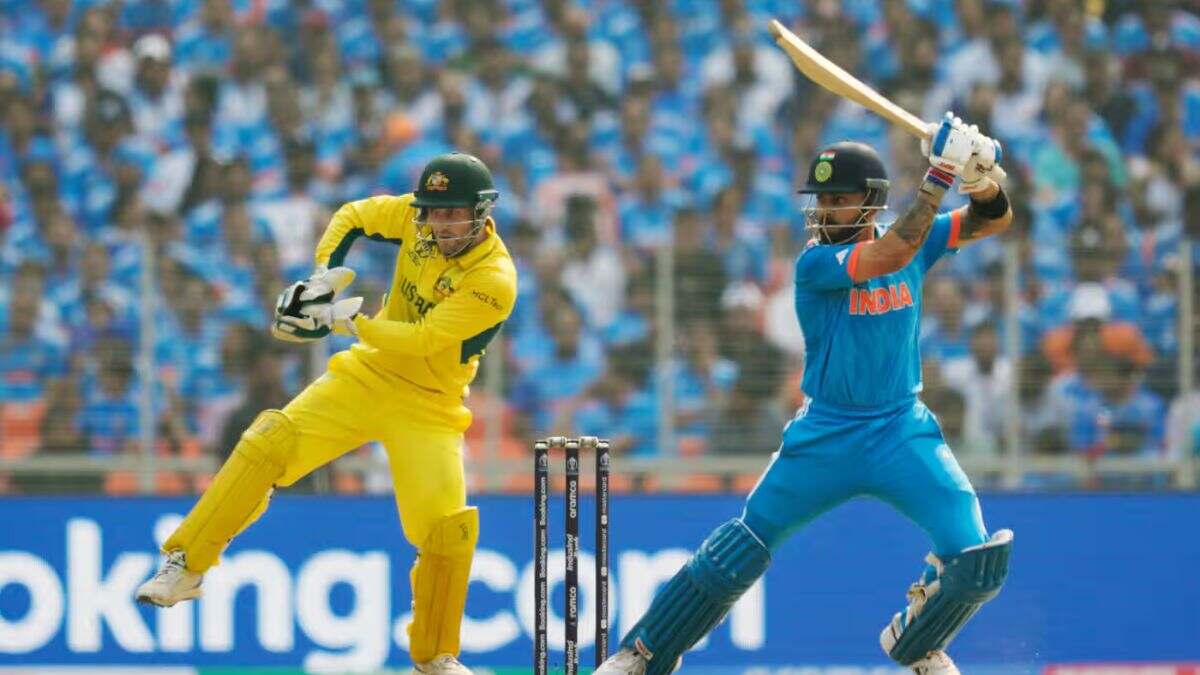 Their approach involves bowling short deliveries aimed at the body, prompting the Indian batsmen to play pull shots on the relatively slower surface. Additionally, Zampa is playing a crucial role by keeping the deliveries tight at the stumps, denying Rahul and Kohli any width to unleash their shots freely. This strategic approach demonstrates a keen understanding of the conditions and an effective plan to control the game.
3:32 PM: India 114-3 (20 overs)
Summary Overs 10-20 (35-1) in the India vs. Australia World Cup Final 2023| W: Australia
Cummins makes a breakthrough by dismissing the in-form batter, Shreyas, for just 4 runs.
The Australian captain is utilizing a significant number of cutters in his bowling.
Zampa and Cummins are working in coordination, restricting the batters to singles.
India reaches the 100-run mark in the 16th over, but boundaries have been notably absent in this phase.
3:44 PM: India 125-3 from 23 Overs
In the 20.5th over, Kohli adeptly guided a short delivery to third man. Keen to convert a single into a double, he hustled for a quick run, but the vigilant fielder quickly released a sharp throw to the keeper. Observing the precision of the fielder, Kohli displayed a momentary disappointment, expressing his intense desire for every run. This incident underscores Kohli's relentless hunger for success, even as he holds the esteemed title of the greatest ODI cricketer.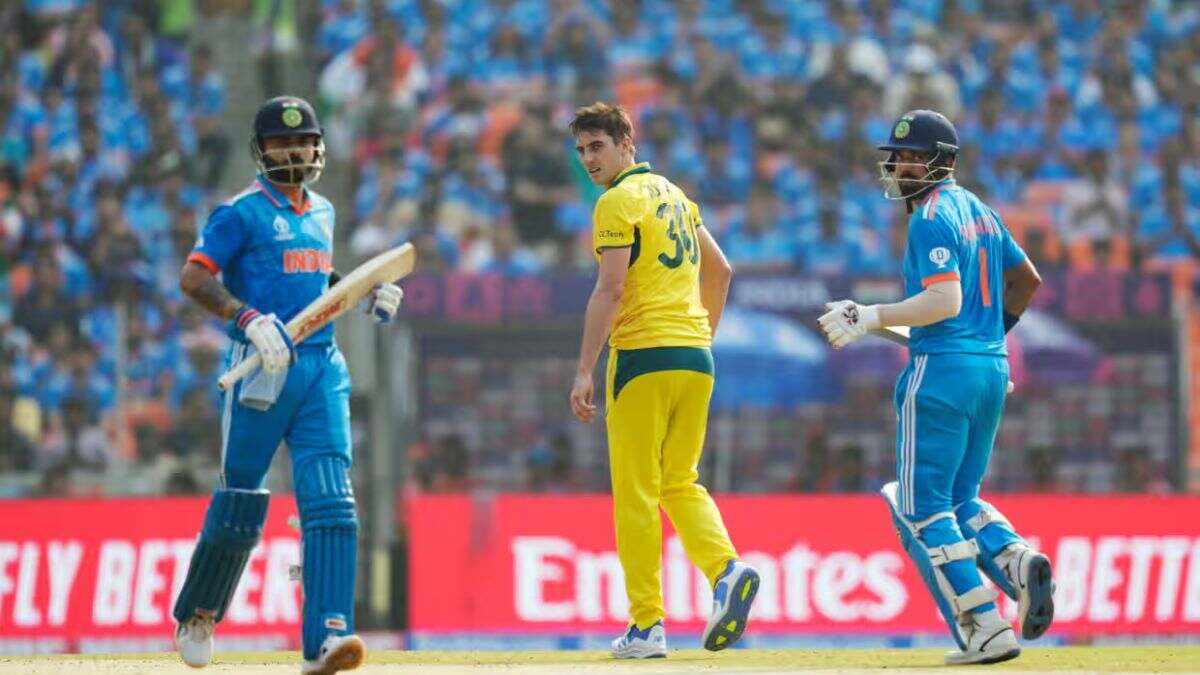 3: 50PM: India 131-3 After 25 Overs
It's a scenario that likely surprised every spectator on the ground – witnessing India bat without hitting a boundary for almost an hour and a quarter. Cummins signals to Starc, and Kohli manages to grab a couple with a deft nudge behind. Demonstrating his skill, Kohli then opens the face of the bat, intelligently exploiting the angles. Despite the unusual lack of boundaries, Kohli appears undeterred and composed at the crease.
3:52 PM: At 25.1 over| 50 for Kohli!
Kohli reaches his 50, marking his fifth successive half-century in this tournament and his ninth 50+ score overall. Achieving this milestone with a punch to long-on, he casually raises his bat, acknowledging the accomplishment, and seamlessly continues with the game.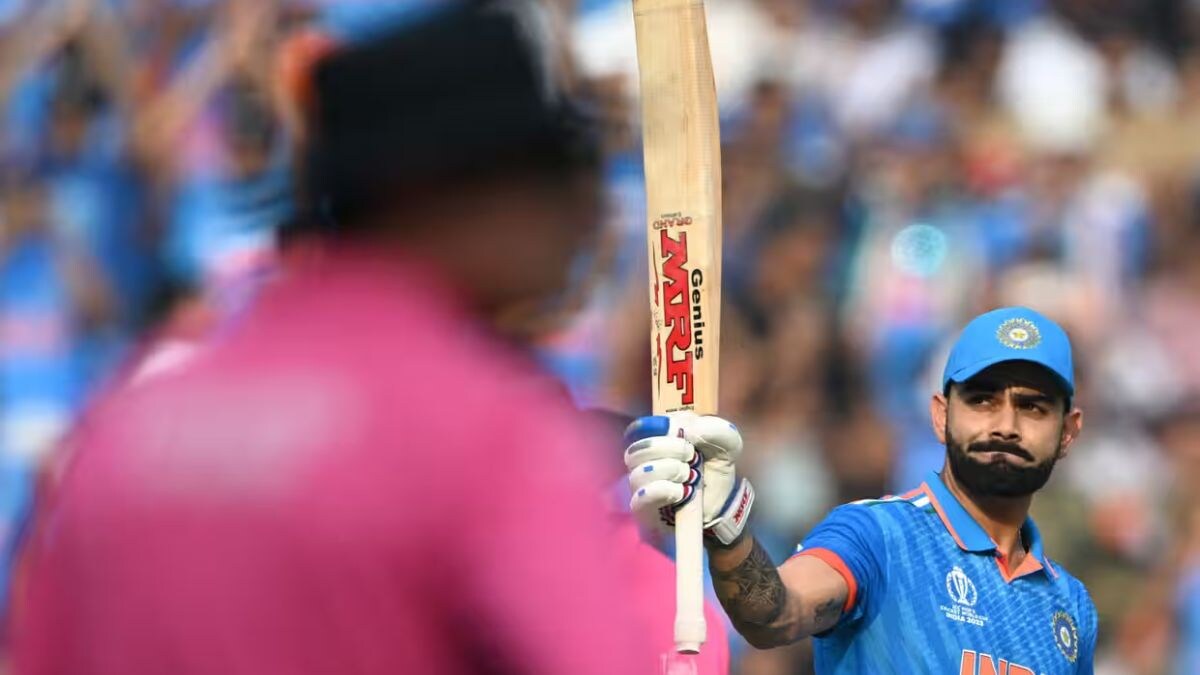 Five consecutive 50+ scores in World Cups
– 5 Steven Smith in 2015
– 5 Virat Kohli in 2019
– 5 Virat Kohli in 2023
"Gee, this is a high-security prison and there is no escaping. It was a good shot but it was overshadowed by the fielding effort" Harsha Bhogle, on air, after Warner stopped a  boundary (25.3) at deep extra cover.
3:57 PM: India 152-3 at 27 overs.
Boundary after 97 balls from KL Rahul. Rahul employs a delightful paddle shot, showcasing finesse as he gracefully manoeuvres across, lowers himself, connects with the ball from the off and middle, and elegantly guides it to the fine-leg boundary. 
4:05 PM: KOHLI OUT| Bowled By Cummins| India 148-4 after 28.3
A colossal wicket falls, casting a sombre atmosphere over the entire stadium. The audience falls into an almost funeral silence. Kohli, unable to comprehend the turn of events, stands in disbelief before reluctantly making his way off the field.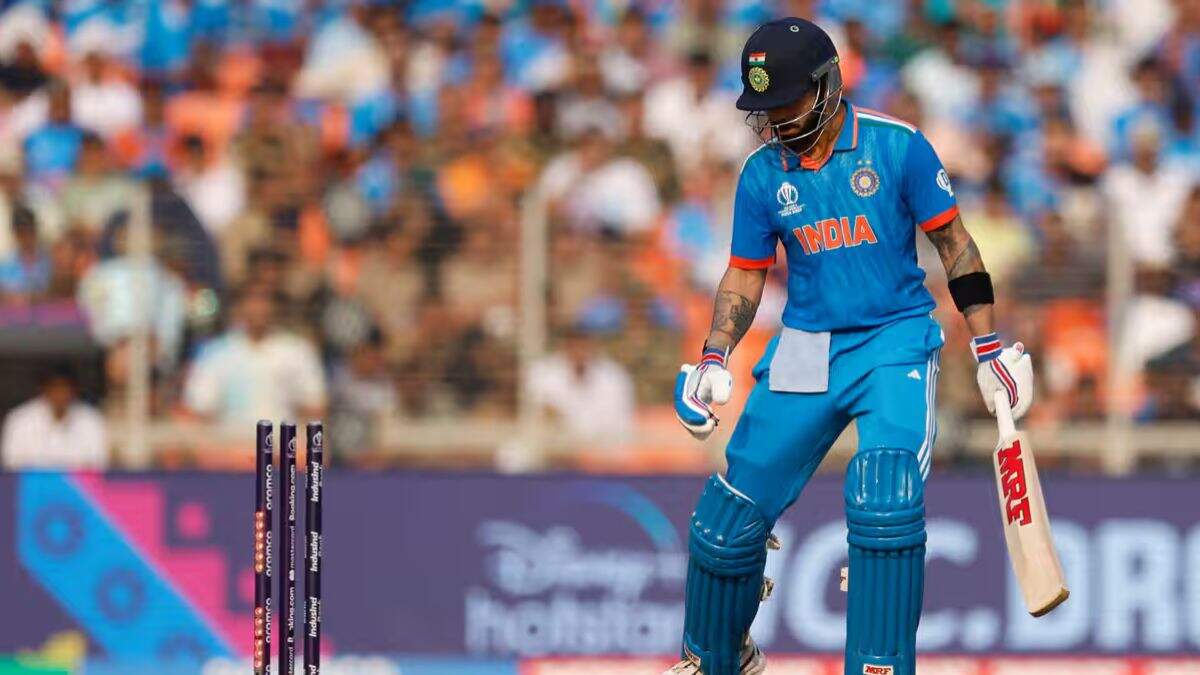 The wives and girlfriends (WAGs) of the Indian team wear expressions of shock and disbelief as they witness the unexpected twist in the game. Ravindra Jadeja comes on crease ahead of Surya Kumar Yadav.
4:14 PM: India 152-4 (30)
Summary Overs 20-30 (37-1) in the India vs. Australia World Cup Final 2023| W: Australia
– Cummins demonstrates strategic flexibility by consistently rotating his bowlers.
– A steady fifty partnership is formed in 88 balls between Kohli and Rahul.
– Kohli achieves a half-century in just 56 balls.
– The first boundary in 98 balls arrives as Rahul executes a paddle-sweep.
– Cummins makes a crucial comeback to dismiss Kohli (54) as he chops the ball onto his stumps.
– India crosses the 150-run mark in the 30th over.
– Australia employs the services of 7 different bowlers during this phase, emphasizing their varied bowling strategies.
4:25 PM: Drinks| India 162-4 (32)
ICC World Cup 2023 Final Live Updates:  As the players take a break for drinks, India finds themselves in a challenging situation, befitting a World Cup final. The promising partnership between Kohli and Rahul was expected to extend until around the 40-over mark, but unfortunately, that plan didn't materialize. The team is now being compelled to step out of their comfort zone, a situation they haven't encountered in this tournament so far. Notably, Jadeja has been promoted to the number 6 position, signifying a strategic move by India in response to the evolving dynamics of the game.
4:35 PM: 50 UP FOR KL RAHUL| INDIA 174-5 (35)
In the face of adversity, India is intensifying their efforts for every possible run. Rahul achieves his fifty with a single, taking 86 balls to reach the milestone. Importantly, he remains at the crease with the potential to contribute significantly.
India finds itself in a challenging position against Australia for the second time in this tournament, and once again, Rahul steps up admirably to shoulder the responsibility. His inning has been exceptional, showcasing resilience and skill.
4:42 PM: Jadeja Goes For 9
Following an unsuccessful review on the preceding delivery, there's no room for doubt this time—a clear and healthy edge results in Jadeja's dismissal. He willingly walks back to the pavilion. Jadeja departs after scoring 9 runs off 22 balls, falling victim to Hazlewood with the catch taken by Josh Inglis.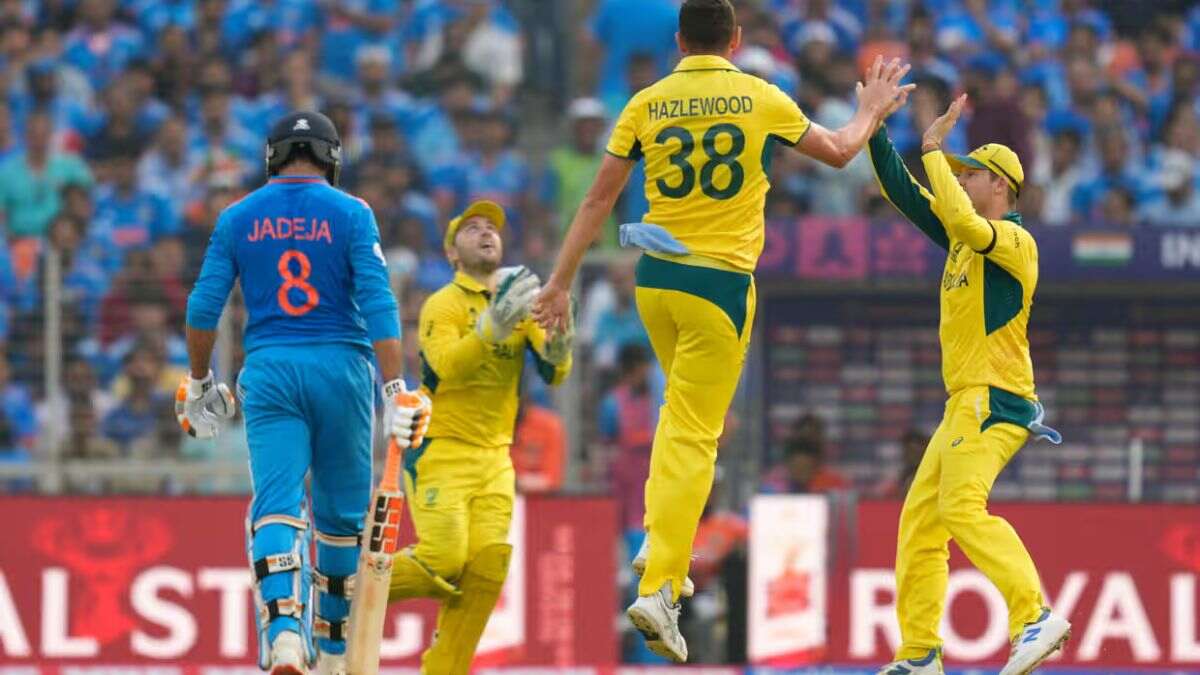 Hazlewood delivers a sensational ball! He sends one hurtling into the pitch, and it moves away with the swiftness and unpredictability of a spark flying from a firecracker. The delivery proves to be a challenging and dynamic piece of bowling.
4:55 PM: India 182-5 (38)
Amidst a couple of overthrows and a review that didn't yield results, Australia seemed to be growing restless. Just when it appeared that this could potentially be a pivotal moment for a change in momentum for India, Jadeja unfortunately edges one to the keeper, granting Hazlewood his first wicket of the day. The significance of this wicket remains to be seen, and only time will reveal its impact on the course of the game.
5:03 PM: India 197-5 (40)
Summary Overs 30-40 (35-1) in the India vs. Australia World Cup Final 2023| W: Australia
– The bowlers are not giving away any easy runs.
– The pacers are successfully generating reverse-swing.
– Rahul achieves his half-century in 86 balls.
– Australia uses a review but loses it, and immediately after, Jadeja edges off the very next ball.
– Maxwell, Marsh, and Head collectively record figures of 10-0-44-1.
– The 39th oversees 10 runs scored, making it the most expensive over in the second powerplay.
– Only one boundary is scored in this phase, highlighting the bowlers' control over the proceedings.
5:08 PM: 200 up for India! KL Rahul Out for Vigilant 66| IND 207-6 (42)
Cummins and Starc engage in a brief discussion before the commencement of this over. Judging from the visuals, it appears that the strategy was likely centred on adjusting the natural length, opting to pull it back a bit. The plan seemed to be aimed at avoiding deliveries that were too full, denying the batters any easy opportunities.
Starc delivers a magnificent ball, reminiscent of something that would have delighted Wasim Akram. Clocking in at 137.9kph, it's a length delivery from around the wicket. Rahul, after a resilient innings, succumbs as he edges it to the keeper, Josh Inglis. Rahul departs after scoring 66 runs off 107 balls, including one boundary.
5:21 PM: Shami OUT|, Caught Behind| IND 213-7(44)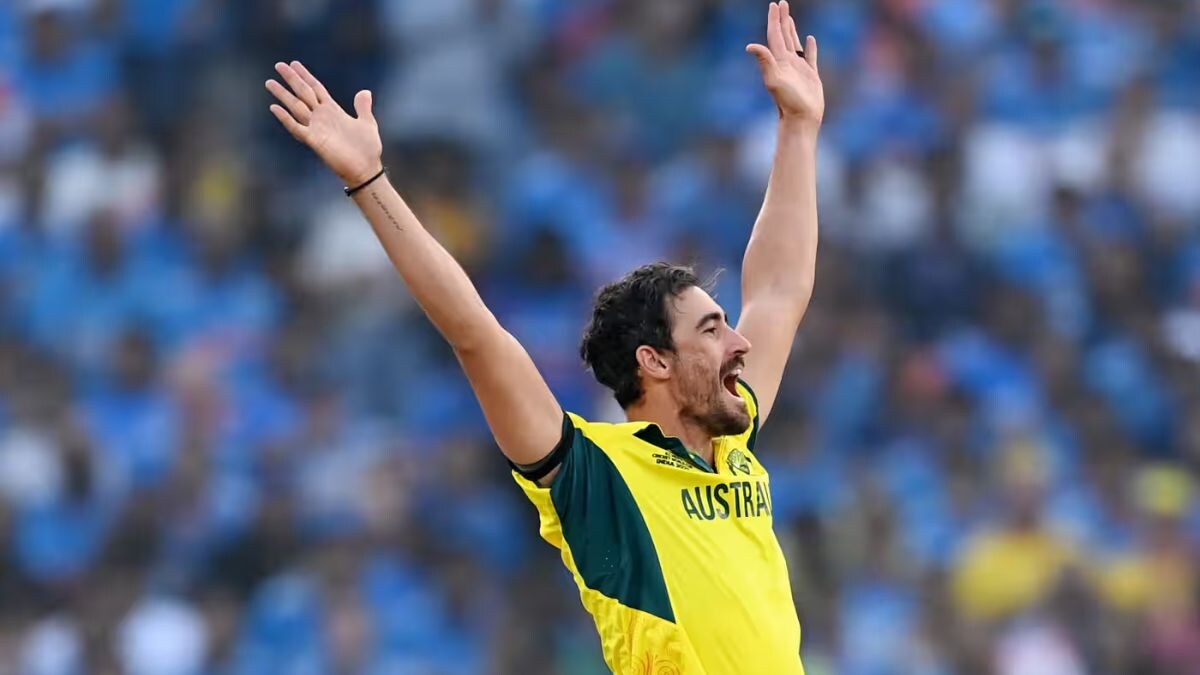 Starc dismisses Shami, who attempts a forceful swing across the line. The delivery, at 141kph, is a length ball just outside off. There's a slight hint of away movement, and Shami ends up with a thick outside edge. The ball travels easily to the waiting hands of Josh Inglis, securing Starc his third wicket. Shami departs after contributing 6 runs off 10 balls, including one boundary.
5:25 PM: Bumrah OUT| LBW| India 214-8 (45)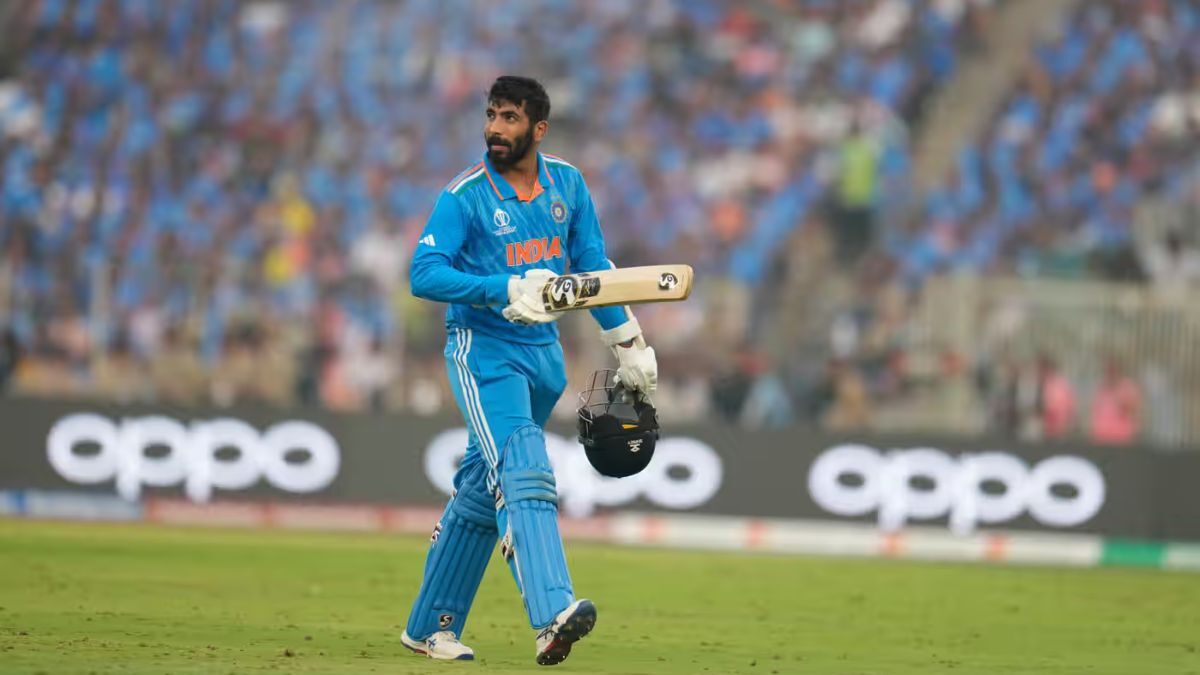 Bumrah falls victim to Zampa, as he is given out lbw. Bumrah, showing signs of disagreement, walks off without opting for a review. The delivery, at 93.3kph, features a scrambled seam and a fullish length that moves straight on. Bumrah attempts to block while getting forward but is beaten on the inside edge. He departs having scored 1 run off 3 balls.
5:40 PM:  Suryakumar Yadav OUT| India 226-9 (47.3th)
Hazlewood executes a successful strategy against Suryakumar Yadav, opting for slow and short deliveries. The plan bears fruit as Suryakumar Yadav, attempting to navigate the tactic, ends up offering a catch to Josh Inglis. Suryakumar departs after scoring 18 runs off 28 balls, including one boundary.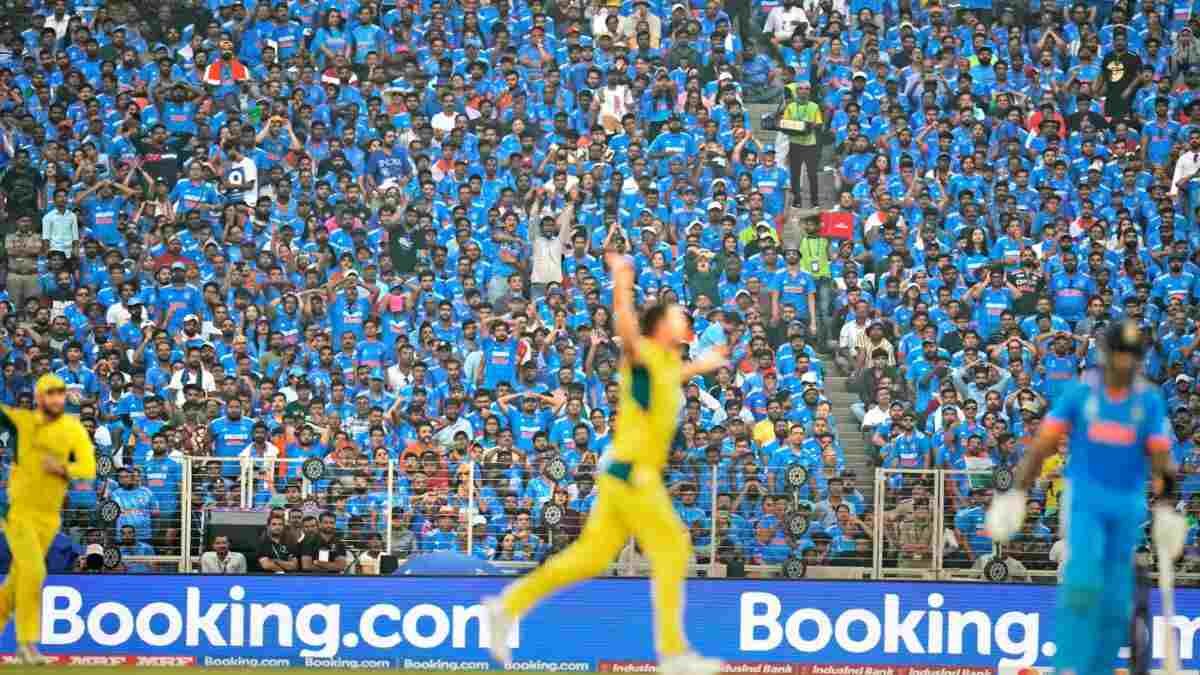 Indian crowd was stunned after SKY's dismissal.
5:50 PM: IND 232-9 (49)
Siraj takes on Cummins, who starts the over with a wide delivery. Siraj expertly ducks a bouncer, securing a single. Kuldeep also gets off the mark with a single. The innings, marked by its resilience, has seen only 12 fours and three sixes in total. Siraj adds another single, displaying determination, and Kuldeep adds one more to the enthusiastic applause of the crowd. The over concludes with five runs, leaving one more to come.
5: 55 PM: IND 240-10 (50)| Kuldeep Yadav RunOut
Kuldeep Yadav is run out on the final ball. Siraj plays a slower ball on a shortish length outside off, pulling it to deep square leg. Attempting to squeeze in an additional run, Marnus Labuschagne throws accurately to the bowler's end, where Cummins breaks the stumps. Kuldeep, unable to reach the crease in time, is run out. He departs after scoring 10 runs off 18 balls.
7:20 PM: Drinks Break| AUS 93-3(17)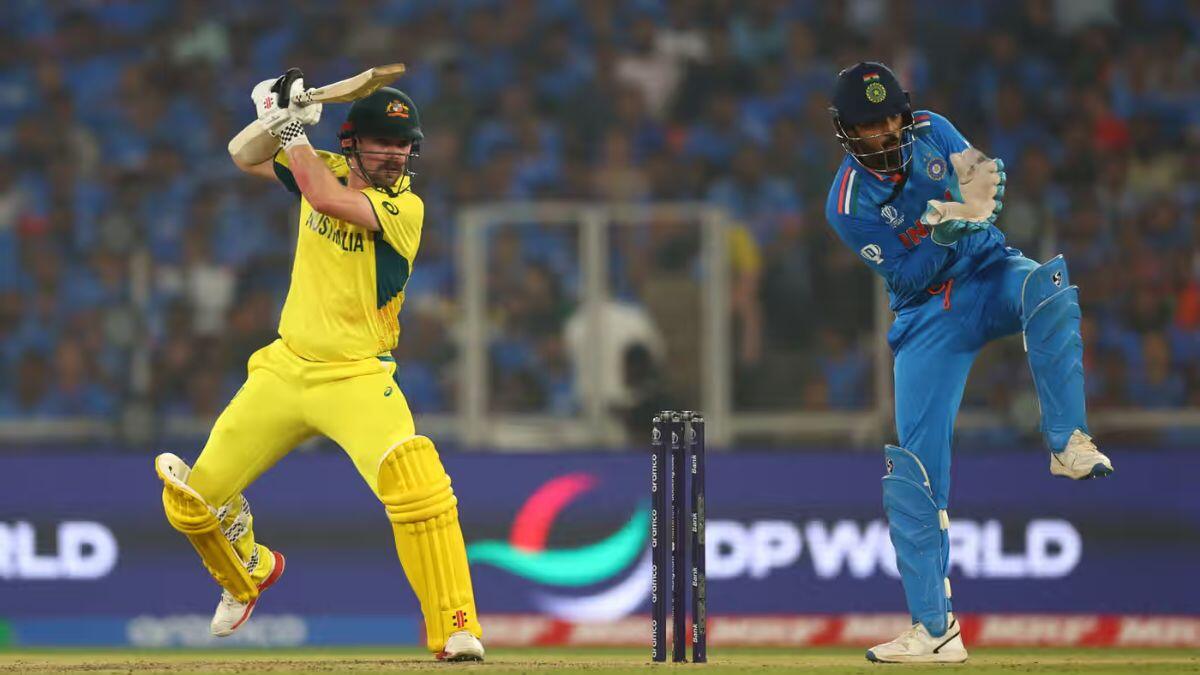 After the powerplay, Australia has managed to regain control of the game. Marnus and Travis Head seem to be settling in comfortably. The concerning news for India is that the pitch isn't offering as much turn as anticipated, making it less challenging for the batters. India needs a breakthrough; otherwise, this partnership has the potential to dictate the pace of the game. Additionally, the presence of dew in the evening in Ahmedabad adds another layer of concern for the fielding side.
Inning Break
5:57 PM: Indian Innings Summary| India has been bowled out for 240 in 50 overs. Despite a strong start by Rohit Sharma, who continued his impressive form, the momentum was disrupted with the loss of key wickets. Travis Head's exceptional catch resulted in Rohit's dismissal, and Australia's bowlers, led by Cummins, capitalized on the breakthroughs. Shreyas' early exit and the effective removal of Kohli and Rahul halted India's momentum, causing a dry spell of boundaries.
The Australian pacers adeptly utilized reverse-swing on the slow track, making it challenging for the Indian batters. Despite a below-par but respectable total, India faces a formidable challenge. Australia, with an impressive bowling performance, will be content at the halfway stage and look forward to an aggressive batting display. The stage is set for an intriguing chase, and the next 30 minutes promise an exciting second innings.
6:15: Warner and Head are at the crease. Warner is on strike. Bumrah will open the attack
6:25 PM| Mohammad Shami Strikes| Warner, OUT!!| AUS 28-1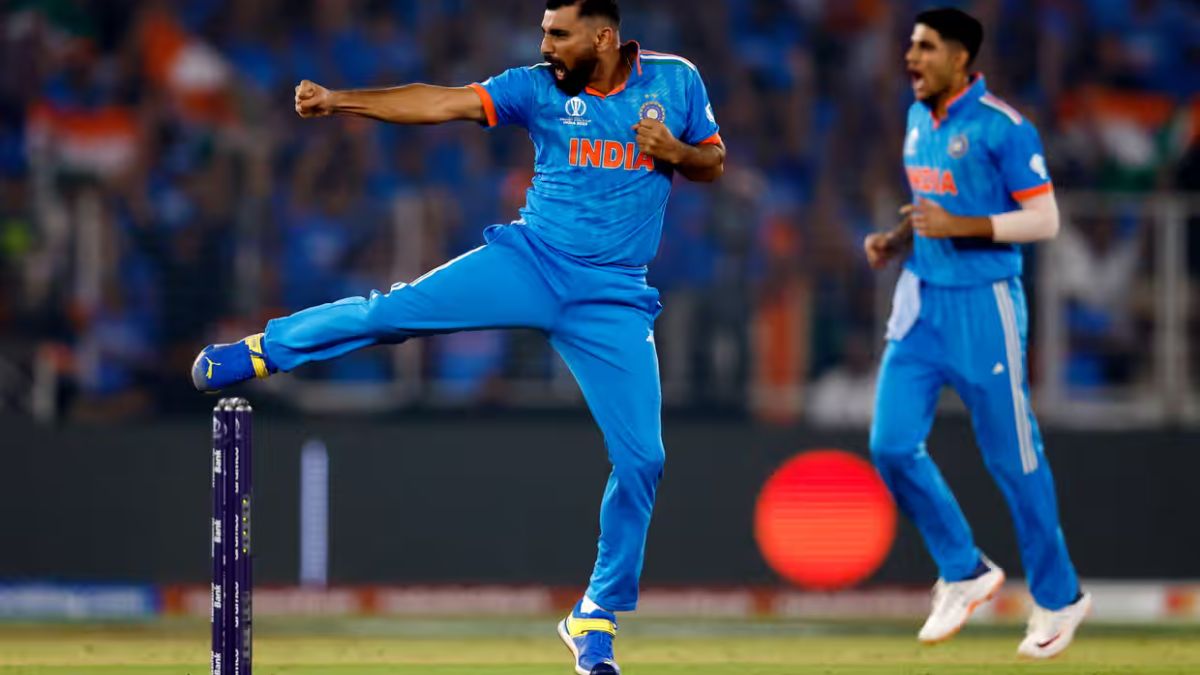 What a breakthrough for India! Shami delivers a brilliant early strike, getting the big wicket of Warner. The decision to bring Shami on early pays off as he proves to be effective against left-handers, continuing his impressive form in the World Cup. Shami, known for his prowess under lights, capitalizes on the conditions in Ahmedabad, dismissing Warner. The delivery, a good length ball angling in and then moving away late, prompts Warner to reach out for a cut, resulting in a toe-end that goes straight to Kohli at lone slip. A key wicket for India, and Ahmedabad erupts in celebration! Warner departs after scoring 7 runs off 3 balls, including one boundary.
6:53 PM: BUMRAH STRIKES| Mitchell Marsh Caught Behind| AUS 41-2(5)
 It seems like a well-thought-out plan from Team India. After sending Siraj to long-off to offer a single to Marsh in the previous over, Bumrah bowls a short-length delivery outside off stump. Marsh attempts the cut, but there's an under edge, and the ball carries cleanly to KL Rahul at slip.
It's a mirror image of Marsh getting caught at slip-off Bumrah's bowling in Chepauk. Bumrah's skill from a wide angle proves effective once again. Marsh departs, and Australia finds themselves two wickets down.
7: 00 PM: STEVEN SMITH OUT| AUS 47-3
Bumrah outsmarts Smith with a brilliantly executed slower delivery, reminiscent of memorable instances like the Shaun Marsh delivery at the MCG or the Rizwan slower delivery in Ahmedabad. The move pays off, and Smith departs after scoring 4 runs off 9 balls, including one boundary. 
A strategic move by India! Before the delivery, Virat Kohli was redirected from slip to short mid-wicket, indicating a shift in the field placement. Smith, possibly influenced by the altered field, may have decided to play straight. Bumrah, displaying his intelligence, cleverly introduces an off-cutting slower delivery. Smith misses the ball, and the umpire raises the finger. Interestingly, Smith chooses not to review, despite having a brief discussion with the Head. The replay reveals that the impact was outside the off stump, making it a crucial moment in the game. The question lingers: why didn't Smith opt for a review? India's clever tactics are proving effective against the Australian batters. 
7:12 PM:  Summary Overs 01-10 (60-3) in the India vs. Australia World Cup Final 2023| W: Shared
Powerplay over and the game is in the balance. India also got a flier and then they were slowed down as the pitch slowed down. Will Australia face something similar?
– The ball is swinging significantly under the lights, posing a challenge for the batsmen.
– Warner gets a lifeline on the first ball as the edge narrowly goes between Kohli and Gill at slips.
– The first over proves expensive, conceding 15 runs.
– Shami makes an immediate impact, striking with the first ball to dismiss Warner.
– Mitchell Marsh counterattacks, but his cameo is abruptly ended by Bumrah.
– Bumrah showcases his skill, getting Smith out lbw with a well-executed off-cutter.
– Behind the stumps, Rahul appears jittery, allowing a few extras to leak.
7:28 PM: AUS 78-3(15)
Travis Head's innings is taking on a hybrid nature. While he has delivered some powerful shots, his overall tempo has been slower than anticipated. This observation is not a criticism, considering the early loss of three wickets for Australia within seven overs. In Kuldeep's second over, Head accumulates four singles. Although the run rate is not a concern for Australia, as they require 167 runs from 36 overs at a manageable rate of 4.64, the crucial factor is preserving wickets.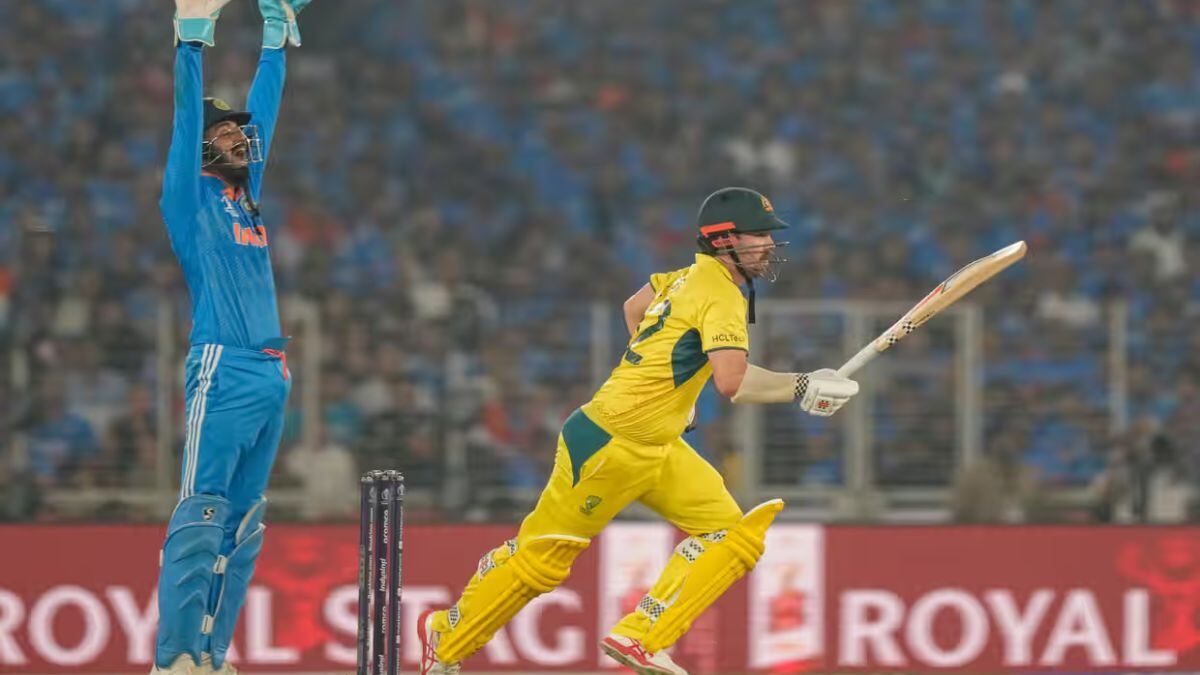 7:51 PM: Summary Overs 10-20 (44/0) in the India vs. Australia World Cup Final 2023| W: Australia
– Travis Head survives an LBW appeal against Jadeja, with the ball just missing the leg.
– Head and Marnus consistently manoeuvre Jadeja and Kuldeep, nudging the ball around.
– Head showcases his power by smashing Kuldeep for a six, momentarily silencing the crowd.
– Siraj is introduced in the 17th over after being held back initially.
– Dew starts to set in, potentially impacting the playing conditions.
– The partnership between Head and Marnus reaches fifty, and Australia crosses the 100-run mark, solidifying their position in the game.
7:56 PM: 50 For Travis Head| Australia 122-3(23)
This represents a critical challenge for Rohit as captain. The ball isn't displaying much activity, an unsettling partnership is developing, and the opposition is gaining confidence with each passing moment. What strategies can he employ to halt this momentum? Even with 130,000 supporters cheering them on, how can he prevent a sense of lethargy from settling over the team?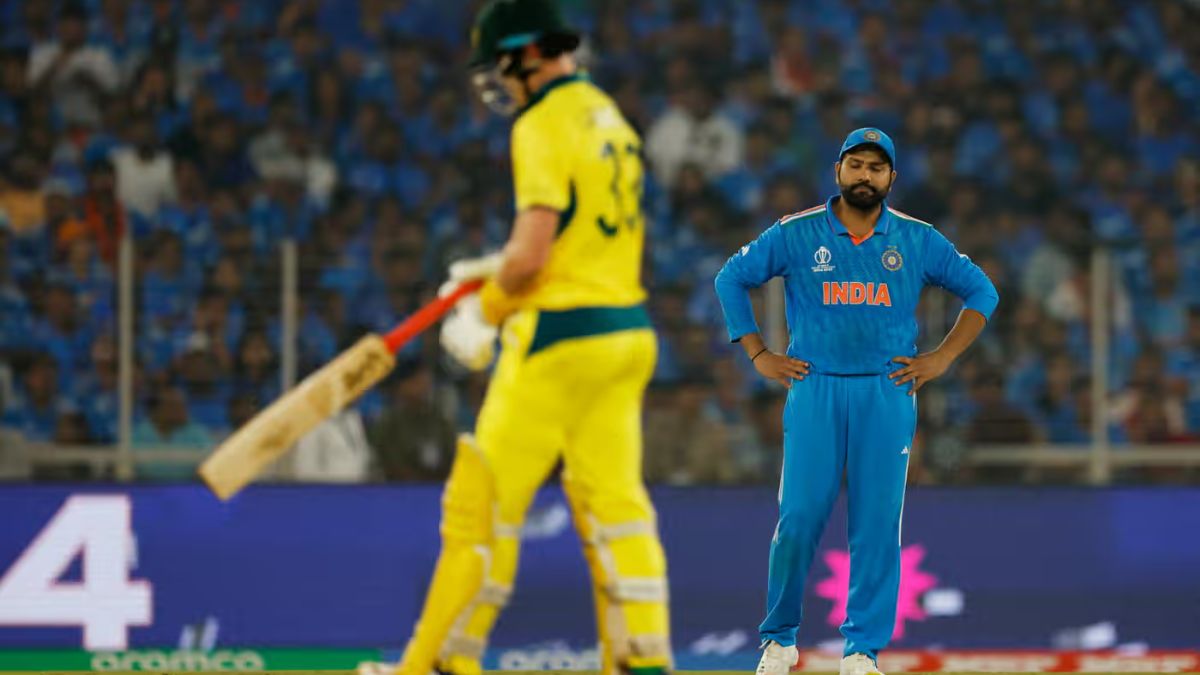 8:07 PM: Australia 135-3 (25)
India is in serious trouble. Immediately after Travis Head struck a length delivery to Kohli at cover (23.2), a noticeable level of frustration emanated from the Indian cricket legend. Kohli initiated with a shadow throw, and subsequently, he fiercely hurled the ball towards the non-striker's end. Despite Labuschagne not straying too far from the crease, even a direct hit wouldn't have jeopardized his safety. A stunned silence permeated the atmosphere in the stadium.
India is nearing the time when hoping for miracles becomes crucial, and that's never an ideal situation. It's a position where control seems elusive, yet India must strive to postpone this inevitability for as long as they can. They need to reinforce the belief that they still retain control over the situation.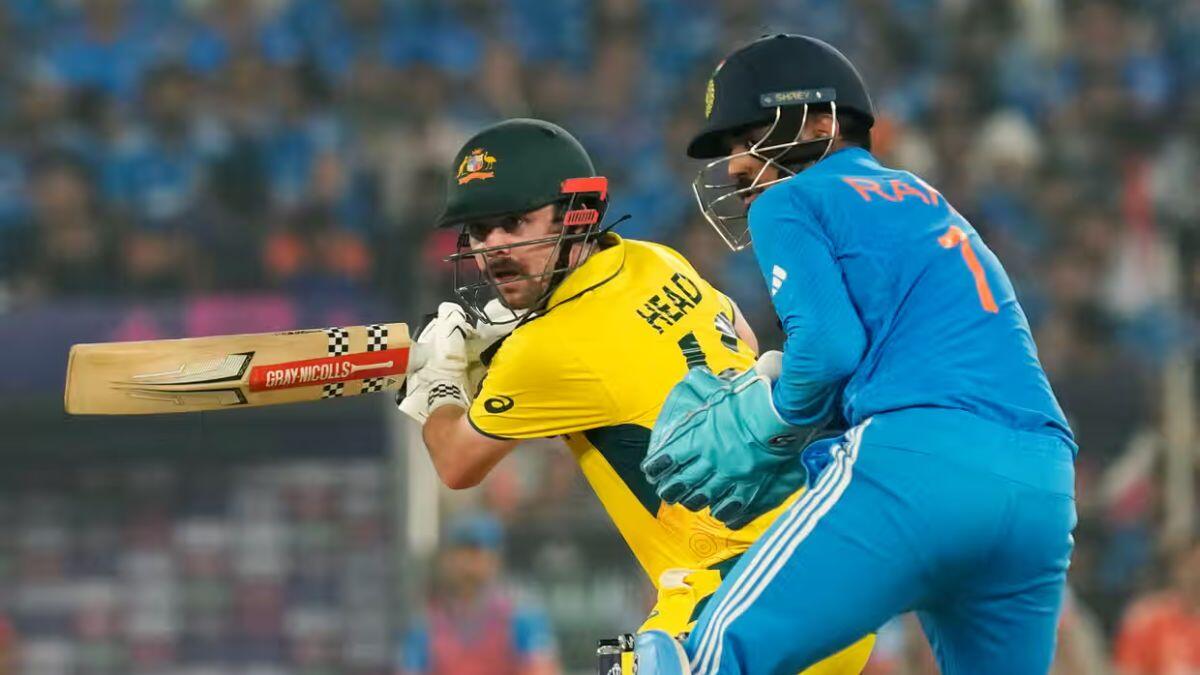 8:30 PM: AUS 167-3 (20)
Summary Overs 20-30 (63/0) in the India vs. Australia World Cup Final 2023| W: Australia
– Siraj finds himself in the firing line against Head.
– Head boldly takes on the bowlers after reaching his fifty.
– A century partnership is achieved.
– Marnus survives an LBW review, the umpire's decision is in his favour.
– Head fearlessly challenges Bumrah, hitting three fours in the same over.
– Despite Bumrah putting his heart into the bowling effort, it proves futile.
8:40 PM: AUS 174-3 (33)| Prime Minister Narendra Modi is present.
Head skillfully directs Jadeja towards the cow corner, securing one of only two singles in the over. With 89 runs from 90 balls, he is in an influential position, while Labuschagne maintains a steady pace at 41 runs from 81 balls. Head's role is defined in this crucial phase of the game.
8:41 PM: Travis Head's 100| AUS 185-3
Travis Head, who delivered a match-winning century in the WTC final against India, now adds another stellar performance with a ton in the ODI World Cup. Head joins a legendary list of batters who have a 100 in a World Cup final.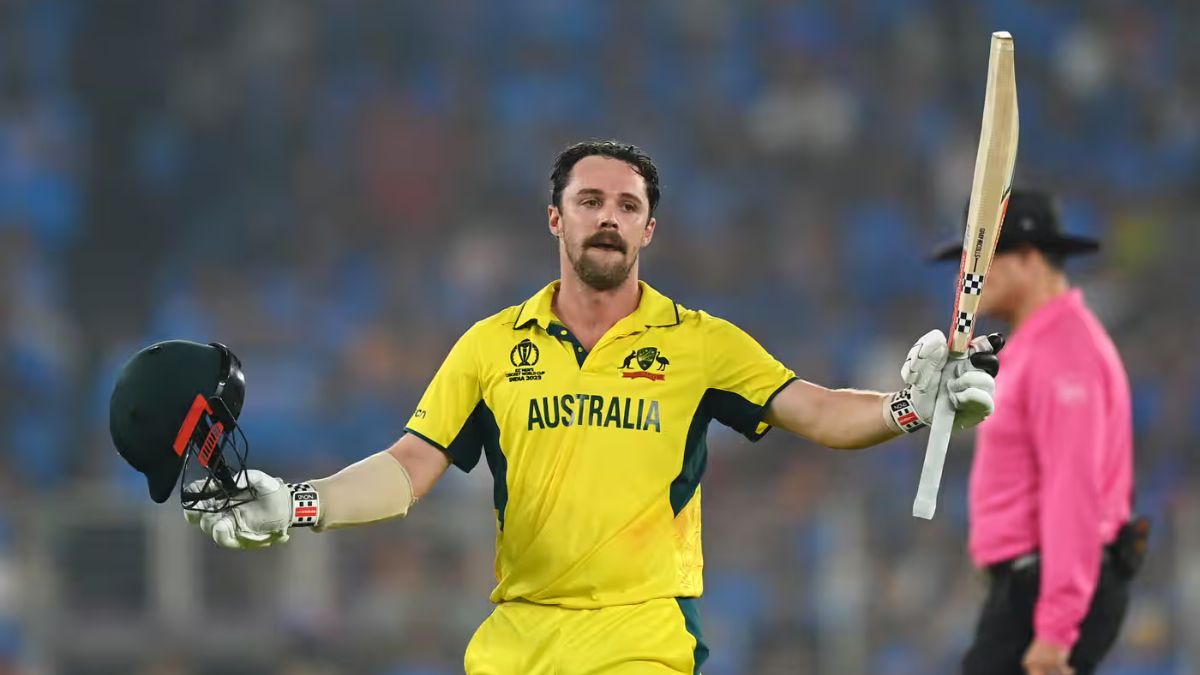 A deserving bow to his remarkable achievements! Head faced adversity, missing the first five matches due to a left-hand fracture, but Australia's faith in him has paid off handsomely. In a daring move, he pushed a leg break to the right of point, embarking on a risky single. A direct hit could have spelt the end for him, but Jadeja's miss allows Head to safely make it to his crease.
8:54 PM: 200 up for Australia| AUS204-3 (Head 117, Labuschagne 43)
Travis Head is accelerating the pace now, showcasing a powerful Sic off Siraj. The customary singles further reduced the target to 38 runs from 79 balls. Jadeja, considered a potential match-winner, concludes with figures of 10-0-43-0. As the players take a break for drinks, it's noteworthy that this scenario is reminiscent of the 1996 final but in reverse. In this case, Head is taking on the role played by Aravinda de Silva back then.
9:08 PM: 50 Up For Labuschagne| AUS Gets Closer To Victory| AUS 230/3 (41)
Ravi Shastri, in his commentary, conveys a demeanour akin to someone receiving disheartening news from the vet. Before the game, envisioning an Australian victory seemed challenging, and the idea of them dominating India like this was deemed impossible.
Labuschagne's role has been pivotal, marked by the significance of his three boundaries, one of which came off the edge. With Head playing a dominant innings, Labuschagne's primary task has been to stay at the crease and rotate the strike. His initial 10 or 20 balls carried crucial weight, not just in surviving them but in the confidence with which he did so. It was the initial sign that Australia might withstand the unprecedented storm. Given the game's context, Labuschagne's innings should feel like a century, a testament to his contribution.
9:14 PM: AUS 231(42)
The Australian players are assembled in the dugout, poised to burst onto the field as soon as the winning runs are scored. The reality of the impending victory is sinking in, contrasting sharply with the growing sense of dejection and disappointment among the approximately 130,000 Indian fans in the stadium.
9:20 PM: Travis Head Out| AUS need 2 of 43
A little bit of anti-climactic for Head, couldn't, hit the winning runs. Siraj delivers to Head, and he's caught by Shubman Gill! A moment of celebration for the Indian fans, and Virat Kohli applauds with admiration. KL Rahul expresses glove-love, and Rohit walks up to Head, extending congratulations. Head departs after a splendid innings, scoring 137 runs from 120 balls, including 15 boundaries and 4 sixes.
9: 22 PM: AUSTRALIA WIN THE ICC WORLD CUP 2023 BY 7 Wickets| WIN The World Up For a Stupendous 6TH TIME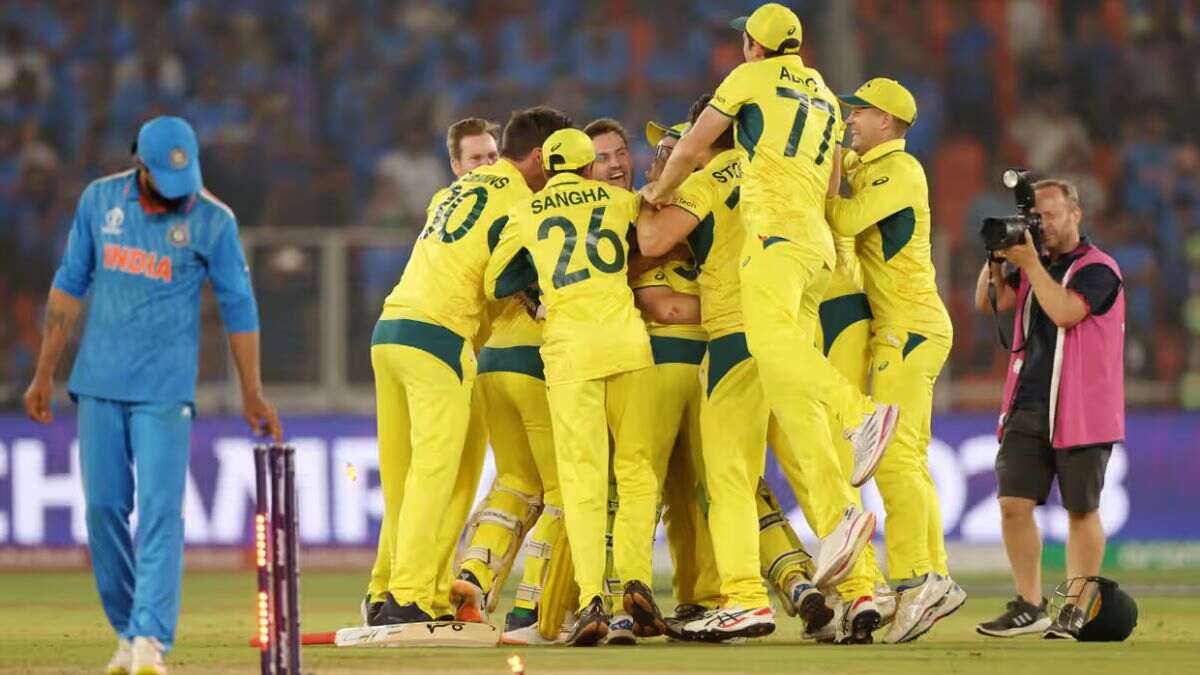 Australia secures its sixth title in the last 10 editions of the ODI World Cup, reaffirming their dominance as the mighty champions of 2023. Inglis leads the running race as his teammates join in, embracing the on-field batting pair of Maxwell and Labuschagne in celebration of their remarkable victory.
IND VS AUS Final Cricket Match Playing XI
India (Playing XI):  Rohit Sharma(c), Shubman Gill, Virat Kohli, Shreyas Iyer, KL Rahul(w), Suryakumar Yadav, Ravindra Jadeja, Mohammed Shami, Jasprit Bumrah, Kuldeep Yadav, Mohammed Siraj
Australia (Playing XI): Travis Head, David Warner, Mitchell Marsh, Steven Smith, Marnus Labuschagne, Glenn Maxwell, Josh Inglis(w), Mitchell Starc, Pat Cummins(c), Adam Zampa, Josh Hazlewood
IND VS AUS Final Cricket Match Squads
India Squad: Rohit Sharma(c), Shubman Gill, Virat Kohli, Shreyas Iyer, KL Rahul(w), Suryakumar Yadav, Ravindra Jadeja, Mohammed Shami, Jasprit Bumrah, Kuldeep Yadav, Mohammed Siraj, Ravichandran Ashwin, Shardul Thakur, Ishan Kishan, Prasidh Krishna
Australia Squad: Travis Head, David Warner, Mitchell Marsh, Steven Smith, Marnus Labuschagne, Glenn Maxwell, Josh Inglis(w), Mitchell Starc, Pat Cummins(c), Adam Zampa, Josh Hazlewood, Sean Abbott, Marcus Stoinis, Alex Carey, Cameron Green
LIVE AUS vs IND: Pitch Report
Diverging from its previous state, it has remained exposed for a considerable duration, presenting a notably dry appearance with minimal rolling. Observable patches, particularly in regions frequented by spinners, indicate a surface conducive to turning. The unpredictable factor lies in the uncontrollable presence of dew, a potential game-changer. The optimal strategy involves batting first and securing a substantial score. Nevertheless, India remains unfazed by the outcome, showcasing adaptability to either scenario.
First appeared on www.jagranjosh.com