Nadhim Zahawi's job as Tory president 'hangs by a thread', says former No 10 communications chief – British Politics Live
Paul Bonman, editor of the ConservativeHome website and former Conservative MP, isn't particularly optimistic about Nadhim Zahawi's chances of survival in a good article on the subject published this morning. Here is an exerpt.
Because when a minister is under the fire of criticism, the support of the Prime Minister is essential. If he is sincere, the latter may find a way to say a few words for a camera or the airwaves. The views of the Minister's colleagues will also be important. If they line up to defend him, either they will believe his account of the events, like him, or they will have an interest in supporting him, in particular because they could be next.

You will have your own view, but James Cleverly, the hapless media minister yesterday, did not say that he had faith in Zahawi as party president, but that the future of his colleagues is the prime minister's business. It wasn't exactly a vote of confidence. Meanwhile, Iain Duncan Smith, who was also in the TV studios, urged Zahawi to "get it all out now, whatever you have to do, and make it clear".

I have yet to speak to anyone in Downing Street from a less cautious view. It's a big place with many staff, not all of whom will have the same opinion – something to keep in mind when reading articles quoting "Number Ten". Duncan Smith said: "I really don't believe he's a deceitful man in any form." But a senior official I spoke to yesterday said he was unconvinced by Zahawi's account of events.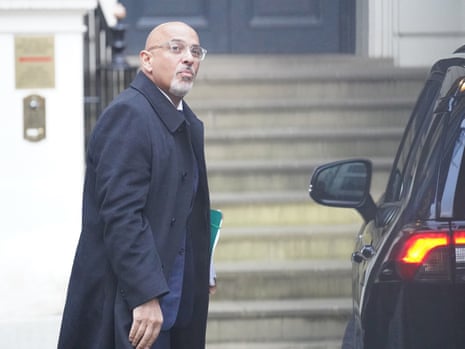 Nadhim Zahawi arrived at the Conservative Party headquarters in Westminster this morning, PA Media reports. The conservative president said "Hello!" to the press gathered outside. He then entered the building.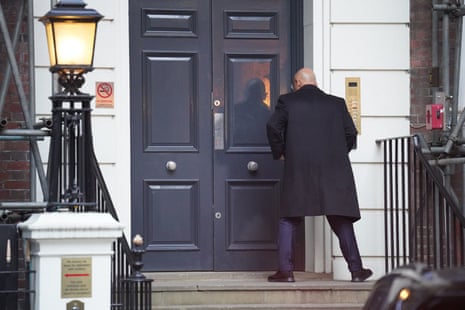 Hello. Since the end of the Second World War, British governments have generally been toppled by economic/financial crises (1970, 1974, 1979, 2010) or sleaze/ethical crises (1964, 1997). The current Conservative government is on the verge of failing on both counts.
The paramedics are again on strike over wages. And Nadhim Zahawi, the chairman of the Conservative Party, is under pressure to resign after revealing he paid a fine to settle a tax dispute while in cabinet.
This is my colleague Peter Walker'the overnight story of the pressure he faces.
Here is an explanation from my colleague Archie Bland.
This is taken from Archie's daily briefing on the First Edition. You can sign up to receive it by email here.
And here are the developments on this story this morning.
Zahawi made his deal with HM Revenue and Customs and paid the fine he owed, while he was Chancellor, it's confirmed.
Craig Oliver, communications manager at No 10 when David Cameron was prime minister, described Zahawi as "in serious trouble" and "hanging by a thread". In an interview with the Today program, Oliver said:
I think that [Zahawi] is in serious trouble. You can't be president of the Conservative Party and not go face the media. So at some point he will have to come out and have a very, very difficult interview.

The problem, I think, at the moment is that it doesn't all add up. Why did you accept the post of Chancellor when you were clearly in conflict with HMRC? He has not yet found a satisfactory or comfortable answer on this point.

These are sums of money that are astronomical for the average voter and it makes them deeply uncomfortable.

And I suspect the Prime Minister's Questions this week will be very awkward for Rishi Sunak, but Nadhim Zahawi's first time facing the media will also be incredibly awkward.

So I think right now it's hanging by a thread.
Here is the program for the day.
Morning: Rishi Sunak is set to record a pooled TV interview during a health visit.
11:30 a.m.: Downing Street holds a lobby briefing.
11:30 a.m.: Nicola Sturgeon, Scottish First Minister, holds a press conference.
3 p.m.: Bertie Ahern, the former Taoiseach (Prime Minister of Ireland), testifies before the House of Commons Northern Ireland Affairs Committee on the institutions created by the Good Friday Agreement.
4 p.m.: Dehenna Davison, Minister of Leveling Up, testifies before the Leveling Up Committee on Leveling Up Funding.
4 p.m.: Sarah Healey, Permanent Secretary in the Department for Digital, Culture, Media and Sport, testifies before the Commons Public Accounts Committee.
I will try to monitor comments below the line (BTL) but it is impossible to read them all. If you have a direct question, include "Andrew" somewhere and I'm more likely to find it. I try to answer questions, and if they're of general interest, I'll post the question and answer above the line (ATL), although I can't promise to do this for everyone.
If you want to get my attention quickly, it's probably best to use Twitter. I'm on it @AndrewSparrow.
You can also email me at andrew.sparrow@theguardian.com
If you are the owner of the content and do not want us to publish your materials on our website, please contact us by email – at itipspedia@gmail.com The content will be deleted within 24 hours.