Yorkshire cricket racism hearing: Michael Vaughan's 'life and livelihood' at stake, lawyer says
The shape of Michael Vaughan's 'life and livelihood' is at stake at the Yorkshire racism hearing, his lawyer said on Tuesday.
Former England captain Vaughan is accused by the England and Wales Cricket Board of making a racist comment to Azeem Rafiq and three other Yorkshire players before a match in 2009.
Since the charges were laid, Vaughan has lost her pundit roles on television and revealed at the hearing in London that her health and well-being had suffered.
Christopher Stoner, KC, told the Cricket Discipline Commission in London: "This is obviously a matter of significant importance to my client. The shape of his life and his livelihood are at stake.
"We're just saying the evidence is not the charge."
Vaughan reportedly told Rafiq, Adil Rashid, Rana Naved-ul-Hasan and Ajmal Shahzad: "There are too many of you, we need to talk about it."
Sky Sports' James Cole sums up closing remarks at the Cricket Disciplinary Committee hearing where former England captain Michael Vaughan is accused of bringing the game into disrepute after alleged racist comments
Stoner accused the ECB of backtracking due to a discrepancy over the second half of the commentary, as Rafiq also recalled: "We need to do something about it."
ECB lawyer Jane Mulcahy, KC, admitted: "It's a bit messy, I see that."
But she reiterated that the key words "you a lot" are what the discipline panel should focus on.
Vaughan, who attended Friday's hearing, maintains he has no recollection of making the comment, and his lawyer cited what he called "fragilities of human memory" of an incident which happened nearly 14 years ago.
"Mr. Rafiq says he has a clear recollection, but not exact words," Stoner said.
"He said it made him sick and angry, but he didn't talk about it for 11 years.
"We're saying it's inherently unlikely that he didn't tell anyone."
Stoner also criticized what he called a "totally inadequate" investigation by the ECB, including its failure to contact other players involved in the game, the referees or a Sky cameraman whose footage formed part of the evidence.
"Due process is important and in our view it has been sent on vacation by the ECB," he added.
Vaughan's lawyer says the racism allegations made against the former England captain by Azeem Rafiq were 'word for word'
Vaughan's 32-page closing written submission, along with a 22-page storyboard of Sky footage, said: "As this hearing comes to an end, now some 5,006 days after the words were said to have been spoken, the burden to prove that the words were said, which is so clearly on the ECB, simply has not been discharged.
"The overall reliability, sufficiency and weight of the evidence, in the context of what is a very serious matter, are such that it is simply not possible for the panel to determine that it is more likely that improbable that the alleged remarks were made by Mr. Vaughan."
Stoner said it was "intrinsically unlikely" that Vaughan made such a comment within earshot of a cameraman with a microphone, "when he knew it was being broadcast to the public".
Earlier, ECB lawyer Mulcahy had claimed it was "intrinsically probable" that Vaughan made the comment.
She said the fact that Vaughan shook hands with "only Asian players" was telling.
"This action clearly signifies that he identifies the four cricketers as a distinct group, consistent with the words 'you lot'," she said.
The ECB's final conclusion read: "Michael Vaughan cannot refute the words because he does not recall saying them. Instead, he claims he would not have said those words."
The alleged comment, the ECB said, was only made a year before Vaughan sent tweets which the 48-year-old later acknowledged as "completely unacceptable".
"These tweets were seemingly light but in reality were offensive as he also accepted," the submission added.
"His comment to the players on June 22, 2009 was in the same vein."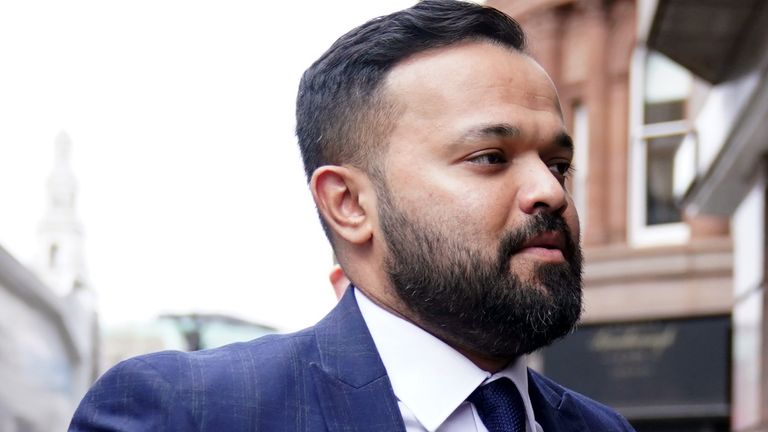 Mulcahy concluded: "The CDC should find that Michael Vaughan uttered the alleged words; that the words were racist and/or discriminatory, and that the words may be harmful to the interests of cricket or may bring Michael Vaughan or the game of cricket into disrepute.
"That being the case, Michael Vaughan breached guideline 3.3."
The cases of former Yorkshire head coach Andrew Gale and former bowling coach Richard Pyrah – who, along with Matthew Hoggard, Tim Bresnan and John Blain, did not attend the hearing to defend themselves – have also been heard. Both deny having used racist and/or discriminatory language.
A seventh player, Gary Ballance, admitted one charge while Yorkshire admitted four charges, including one that he 'failed to address the systemic use of racist and/or discriminatory language over a period prolonged".
The hearing is scheduled to continue behind closed doors Wednesday and Thursday.
CDC Chairman Tim O'Gorman concluded the public portion of the proceedings by saying, "These are judgments that require careful consideration. These are rulings that will be in writing, and we hope to have them by now. the end of the month.
"However, I hope you understand that the panel has considerable professional commitments."
If you are the owner of the content and do not want us to publish your materials on our website, please contact us by email – at itipspedia@gmail.com The content will be deleted within 24 hours.